Looking for a cheap and reliable web hosting service in Nigeria to showcase your products or services for your small business and expose your brand to the world

?
After creating a website for your small business, it is important to consider a reliable web hosting company for your business website in order not to affect sales and relationships with your customers.
A simple explanation to know is that web hosting is the process of storing files, information and content that make up the website of your business, usually a rented space on a high processing remote computer

.
There are so many website hosting companies out there.

Yet, I've handpicked the best web hosting companies in Nigeria that is the most reliable and would give you the rest of your mind at any day and anytime

. But first, why is web hosting important?
---
Why Good Web Hosting Is Important
A security breach in one's site can create a gateway into your website. This can be very frustrating because now you are not even in charge of your data's security anymore.
Website security is easy to overlook, and usually something we only think about once it's too late. Thus, you'll want to invest in proper security measures before anything bad happens.
Customer Support
Having your site break, or stop working altogether is no fun. Sometimes this is due to an error of your own, such as editing your site's code and taking it offline. But, on occasion, this can be due to your host as well.
Whenever an issue like this arises you'll want to have a dedicated support team behind you. There's nothing worse than having an issue with your site when you've sent out an email newsletter or had an ad run. Or some other big sales or marketing tactic that is driving people to your site, only to have it crash.
Think of the support team as the lighthouse. Helping bring your site back to its functional state.
Reliability
If you rely on your website to generate leads, or you're selling products, then every minute your site is offline, it's costing you money

. There are a variety of reasons your site can go offline.
A reliable host works to ensure your website isn't affected by hosting-based issues and your security is not jeopardized due to vulnerabilities in the server

.

Good hosts not only put the effort into resolving issues but also ensure similar issues do not affect you in the future

.
Backup of Site Content
It's unfortunate, but file loss does happen.

You might

accidentally

delete a lot of information on your website at some stage, or face a hacking issue, so you need to know that all your important data is being backed up somewhere

.
It always pays to have your site backed up by your web hosting service – every 24 hours. But this isn't something that every company provides, so make sure you check with a provider before you sign up.
Different Types of Web Hosting
These act as a storage place for your website, where they differ in the amount of storage capacity, control, technical knowledge

requirement

, server speed and reliability

.
Shared Hosting
The majority of websites are on shared hosts or servers. This is where your website is stored on the same server as many other websites.
With a shared hosting plan, all domains share the same server resources, such as RAM (Random Access Memory) and CPU (Central Processing Unit)
.
However
, because all resources are being shared, the cost of shared hosting plans is
relatively
low
. Making them an excellent option for website owners in their beginning stages.
The biggest disadvantage of a shared hosting account is that you're at the mercy of the other sites on your server
. A
really
popular site may affect the performance of your site. But, if you're the most popular site on the server, you get to use a super server for a very low price.
Dedicated Web Hosting
Dedicated hosting gives website owners the most control over the server on which their website is being stored

. That's because the server is only rented by you and your website is the only one stored on it.
This means that you have full root and admin access, so you can control everything from security to the operating system that you run

.
With a dedicated server, you don't have to worry about other websites on a shared server taking up your resources and slowing your website down
.
Cloud Hosting
This is a virtual server that is made up of many physical web servers.

If one fails, there is another to take its place which means it is more reliable than standalone servers and should have no downtime

.
They also scale

automatically

to handle increased traffic and allow users to use as many resources as they need

. Without having to build and maintain their computing infrastructure.
Cloud-based hosting is scalable, meaning your site can grow over time. Using as many resources as it requires and while the website owner only pays for what they need.
5 Best Web Hosting in Nigeria
The following web hosting sites in Nigeria provides: web hosting with cPanel, SSL, domain name registration, email services and web hosting for WordPress

. Without further delay, here are the five top web hosting in Nigeria today:
Truehost is the first on our list of the top web hosting companies in Nigeria!!
Truehost Cloud is a reliable web hosting company located at Amodu Tijani Cl, Victoria Island, Lagos

.

They offer services such as domain name registration, cheap web hosting services, WordPress hosting, dedicated email hosting, SSL certificates, VPS and dedicated server hosting

.
They have a network uptime percentage of 99.9% and a 30-day Money-back Guarantee.

They process payments through online ATM card payments (Flutterwave), bank transfers & deposits and Cash payments

.
What I love about Truehost Cloud is that they also

provide genuine technical support services and respond to issues/queries within 2 minutes, when you use the chatbot on their website.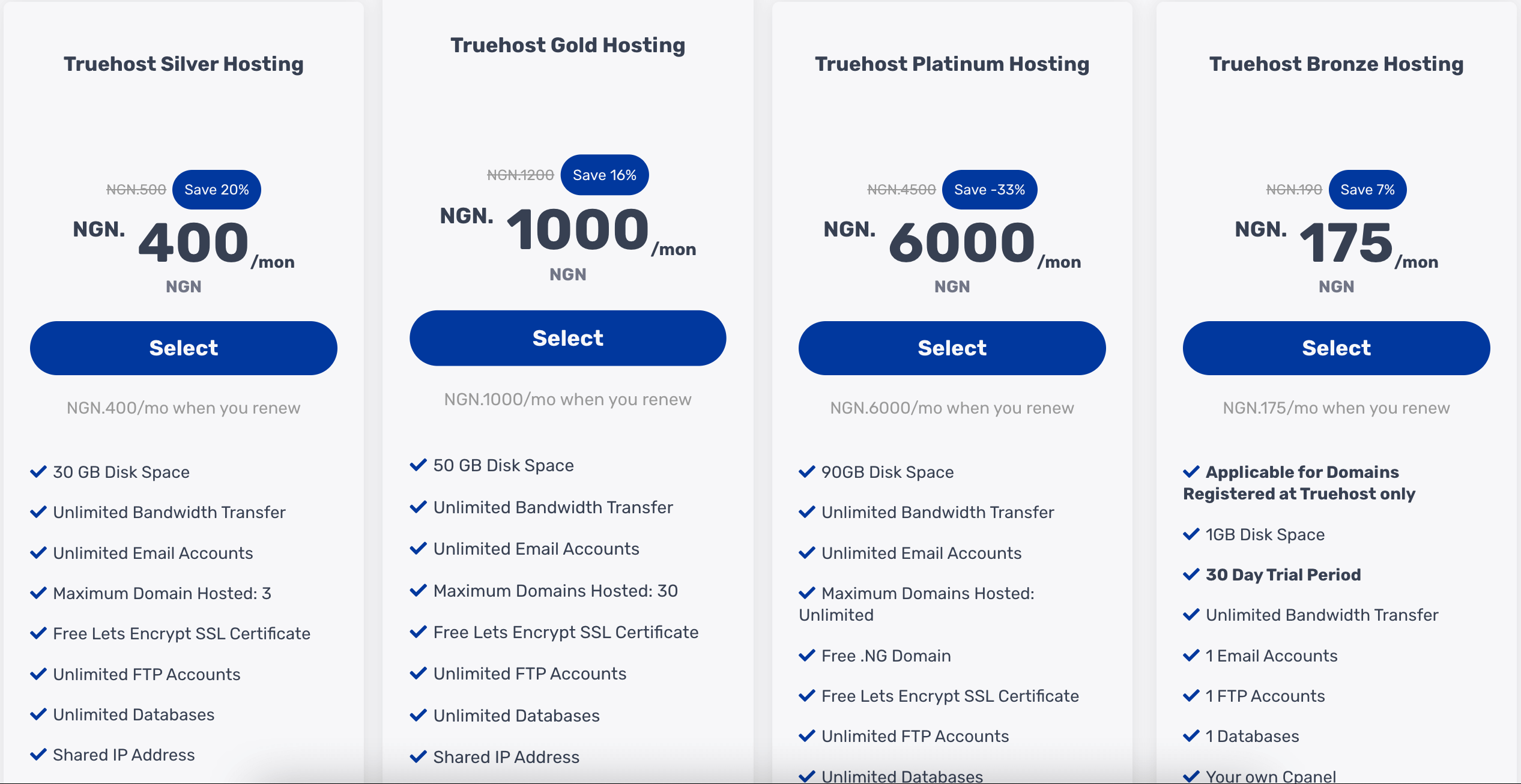 DomainRacer is one of the best web hosting provider platforms in Nigeria. And gives outstanding performance to customers. They serve domain and web hosting services all over the globe.

It has a lot of popularity in the market because of its

budget-friendly

nature and worldwide data centres

.
DomainRacer provides web hosting options including Shared hosting, VPS hosting, LMS hosting, dedicated server hosting and all application-based hosting at an affordable cost
.
All web hosting plans are being bounded with the latest security features such as ImunifyAV+, Imunify360, etc
.
They also offer free SEODefault tool, free weekly JetBackup service, free SSL certificate, 99.99% uptime, unlimited SSD storage space, unlimited bandwidth, 24/7 customer support, and 21x faster LiteSpeed cache technology, free SitePad website builder tool and many more
. Expand your online business at a low-cost today.
Whogohost is one of West Africa's largest and most popular web hosting providers.

The company started providing web hosting services in 2007 and has served over 40,000 clients

.
Whogohost

offers domain name registration, WordPress hosting, Cloud hosting and SEO tools to increase sales for your small business

.
Smart Web Nigeria Limited is a web hosting service company located in Abuja, Nigeria. They provide affordable domain registration, web hosting and cloud services to over 100,000 sites, blogs and applications around the world.
They have the best reliable 24/7 premium customer support service. Their response rate is within 10 minutes and guarantees 99.9% server uptime with daily website backups. Buy a hosting plan now to start enjoying reliable hosting service for your business.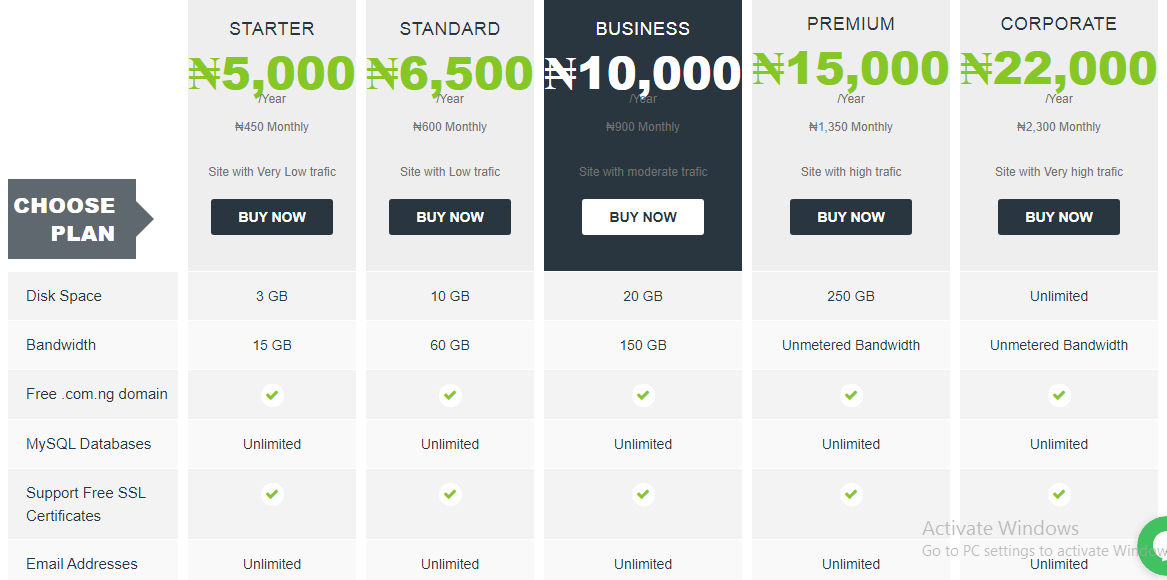 Qservers is a reliable web hosting company located at 14 Allen Avenue. Ikeja, Lagos. They offer services such as domain name registration, web hosting services, SSL security, VPS and dedicated server hosting.
Qservers provide a network uptime percentage of 99.9% and have been in business since 2004. They provide genuine technical support services and process payments through online ATM card payments (Interswitch), bank transfers & deposits and Cash payments.
The following are website hosting plans, prices and features offered by the Qservers hosting company. Order now to host your website on their reliable servers.
If you're planning on creating an online presence, reliable web hosting is essential for your small business

.
Choosing the right hosting plan will mean having access to the right allocation of resources to keep your website loading

quickly

and

reliably

for your visitors

.

Think about how many businesses these days operate

primarily

online; their sales and business leads come from their website

.
If someone lands on a website and there's a problem — it takes too long to load or doesn't appear at all — potential customers won't wait around

.

They'll bounce off that site in search of one that works

correctly

and can deliver what they are looking for,

seamlessly

.
Once you've purchased a domain name, you have to get a web hosting service to hold your website files and display them to the world
.
The list of website hosting companies in Nigeria mentioned above also provides domain name services for easy access with your web hosting
. Learn more about the difference between web hosting and domain name.
So, here we have it, the best web hosting for your small business website to increase, generate and convert prospective customers to buy your products/services

. Good luck!
If you think someone else could enjoy this article, kindly spread the word., Also follow our

Facebook

,

Twitter

and

Instagram

pages to receive more helpful tips about web design and how to grow your business

.
Do you currently use any of the web hosting sites in Nigeria mentioned above? Comment below!! Share your experience hosting your website with these companies and we'll update this article as appropriate…